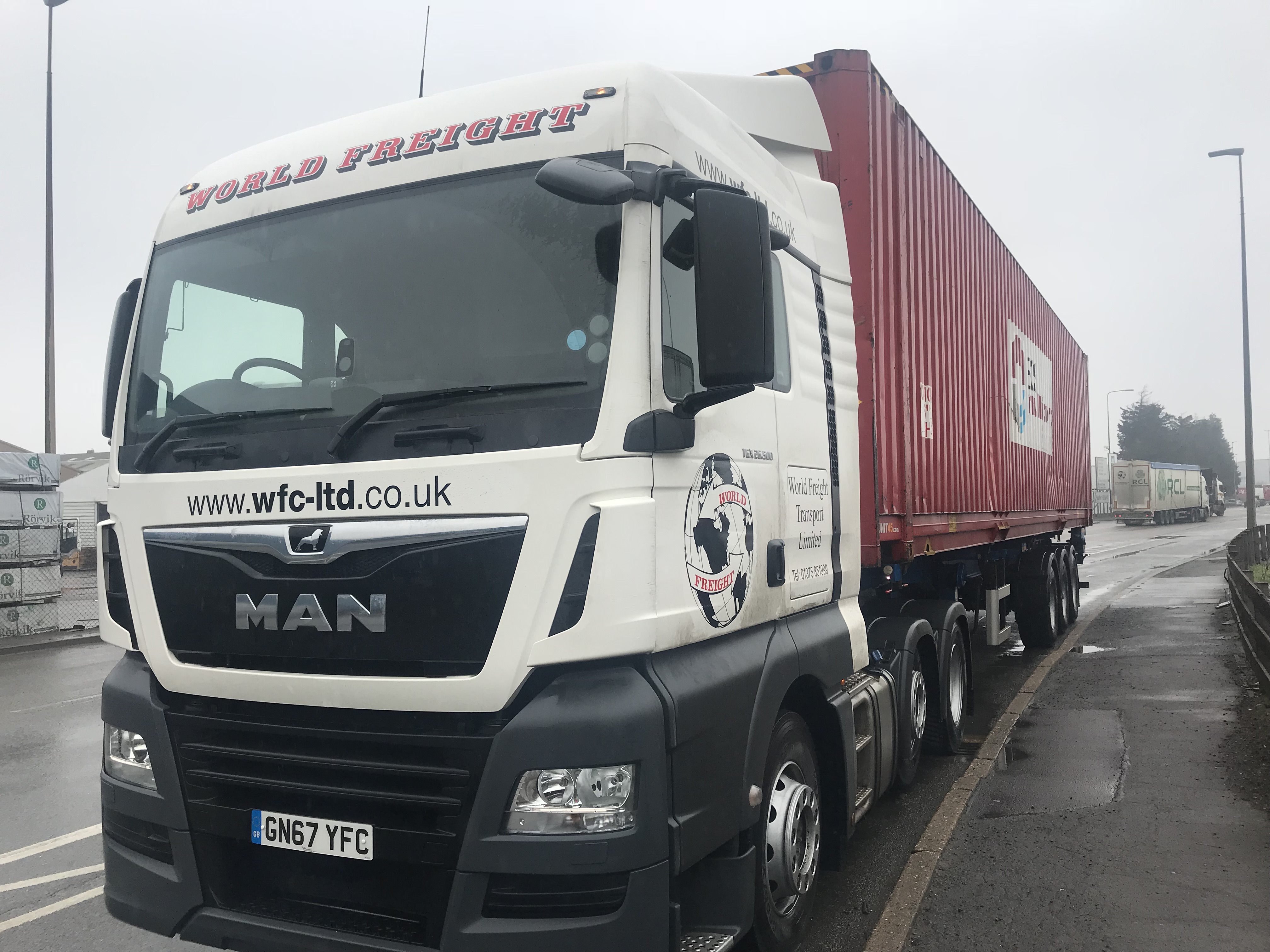 Container Transport London Gateway
DESCRIPTION
With our own fleet and carefully vetted sub-contractors, World Freight Transport is positioned to undertake time-critical and safe delivery of all container deliveries from the Port of Tilbury and London Gateway.
We use our own large fleet of vehicles and carefully select sub-contractors to ensure all jobs are undertaken in a time-critical manner and ensure the safe delivery of all containers being delivered from the Port of Tilbury and London Gateway.
All of our fleets are covered by Satellite Tracking, which in return enables us to monitor the whereabouts of all deliveries/ collections, ensuring all our customers are fully satisfied with our service.
Our highly experienced team have the knowledge and expertise to consistently deliver your containers on time, every time without fail. We have been established for multiple years now and are able to cope with seasonal peaks yet small enough to take great care and attention to detail.
As one of the main hubs for transport activity and industrialists, Container Transport London Gateway is ever-growing in size and range for all kinds of transport needs. The area is fast becoming a hive of growth, opportunity, and entrepreneurial business, and we here at World Freight Transport are here to support you with all your transporting needs that Tilbury may have. Our fleet is specialised and regularly maintained and serviced, and because of this, they are guaranteed to succeed on all delivery tasks we undertake. We take great pride in health and safety, efficiency, and customer communication, and will always do as much as possible to make sure that your deliveries are safe, secure and on time.
So, if you are looking for Container Transport London Gateway, look no further than World Freight Transport. Give us a call today to speak to our highly experienced staff team who can assist you with all inquiries
BENEFITS OF SERVICE
Mauris maximus ac urna eu ultricies. Nulla lorem urna
Ut eu sapien eget elit eleifend maximus. Phasellus id mauris ut nibh ullamcorper suscipit vitae sit amet sapien. Proin consectetur mollis nisi, vel molestie leo. Nam malesuada, orci molestie luctus laoreet, lacus purus venenatis massa, a volutpat felis lorem et tellus. Maecenas imperdiet, enim vel tristique placerat, risus dui rhoncus diam, et dignissim felis ex non dui. Aenean at suscipit lacus. Suspendisse quis finibus risus, id eleifend dui. Maecenas ut eleifend diam,
Mauris maximus ac urna eu ultricies. Nulla lorem urna
Ut eu sapien eget elit eleifend maximus. Phasellus id mauris ut nibh ullamcorper suscipit vitae sit amet sapien. Proin consectetur mollis nisi, vel molestie leo. Nam malesuada, orci molestie luctus laoreet, lacus purus venenatis massa, a volutpat felis lorem et tellus. Maecenas imperdiet, enim vel tristique placerat, risus dui rhoncus diam, et dignissim felis ex non dui. Aenean at suscipit lacus. Suspendisse quis finibus risus, id eleifend dui. Maecenas ut eleifend diam,
Mauris maximus ac urna eu ultricies. Nulla lorem urna
Ut eu sapien eget elit eleifend maximus. Phasellus id mauris ut nibh ullamcorper suscipit vitae sit amet sapien. Proin consectetur mollis nisi, vel molestie leo. Nam malesuada, orci molestie luctus laoreet, lacus purus venenatis massa, a volutpat felis lorem et tellus. Maecenas imperdiet, enim vel tristique placerat, risus dui rhoncus diam, et dignissim felis ex non dui. Aenean at suscipit lacus. Suspendisse quis finibus risus, id eleifend dui. Maecenas ut eleifend diam,